Australia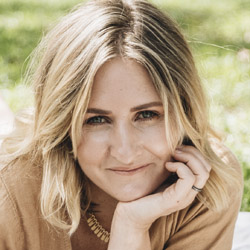 Prashanti Vodanovich
Based in Australia with over 20 years of experience in the wellness and luxury spa/hotel industry as a therapist as well as in a management capacity. Prashanti holds a Diploma of Clinical Aromatherapy & the Aromatic Medicine Skillset, an Australian Government approved qualification with over 1200hrs of recognised study. She has also travelled to Provence to Complete 3 levels of the Advanced Clinical Aromatherapy Program with Essential Oil Resource Consultants lead by Rhiannon Lewis.
Prashanti's vast therapeutic training has made her a highly regarded formulator & consultant. As the founder of Cura Co.Lab she formulates and manufactures a range of signature operational products for a number of Luxury Spa's in Australia and has a passion for promoting and educating her clients on the safe & sustainable use of aromatic plants and essential oils in the industry. She also advises to large hotel groups on the use & selection of Eco-Conscious products. As a formulator Prashanti is fastidious in researching, sourcing and creating ethical products. Prashanti is currently studying a Globally recognised Diploma of Cosmetic Chemistry & Personal Care Science fuelled by her desire to create eco conscious, effective products that work with and for nature.
---

Brazil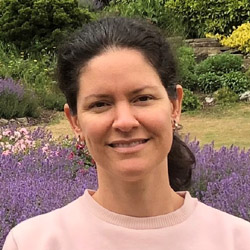 Lidiane G. Franco Pelli
Lidiane G. Franco Pelli has a degree in Forestry Engineering in Jan / 2005 from the Federal University of Viçosa (UFV), where she worked as volunteer with medicinal plants in a NGO, which helped her to solidify a childhood passion, linked to a familiar custom of using medicines remedies. She conducted a research with a symbiotic association between microorganisms (mycorrhiza and rhizobacteria) in a native plant (Anadenanthera peregrina) at the Laboratory of Mycorrhizal Associations / BIOAGRO / UFV. This brought an understanding of how associations between micro and macroorganisms are the basis for the survival of all ecosystems in our Planet.
After graduating, she worked with the recovery of degraded areas, maintenance and preservation of the Permanent Preservation Areas (PPA) and Legal Reserve. She elaborated and executed environmental education programs, which put her in close contact with the local population. She learnt about their customs and ways of life.
She prepared and executed a biodiversity conservation plan, coordinated a team to survey and monitor biodiversity data, including endemic plants (Serpentine plants) in Barro Alto and Niquelândia, Goiás, Brazil. She was responsible for reporting GRI (Global Reporting Initiative) indicators related to the Biodiversity of the company she worked for.
She became a mother in 2009, when she decided to dedicate herself to motherhood and return to studying old passions: medicinal plants, a passion since a very young age. In 2015, she got in touch with aromatherapy and in 2018 she started studying with Carla Véscovi, who always transmitted the importance conscious use of essential oils. Since then, Lidiane has been studying this very beautiful and loving area. She is also a yoga teacher for children and yoga nidra teacher as well, always looking for body care and healing linked to the care and healing of our Planet. The preservation and proper management of resources, promotes the balance between our life and the life of our Planet, therefore we are completely interconnected.
The combination of two passions: Conservation of Biodiversity with Aromatherapy is something wonderful, a dream coming true!
Para a Biografia de Lidiane em Português, por favor clique aqui.
---

Malta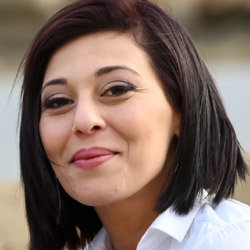 Marika Fleri
Marika Fleri has been practicing aromatherapy for the past 20 years in Malta focusing mainly on education, promoting safe use of oils through various media including TV, newspapers, magazines, workshops and social media. She has been working in oncology and palliative care for the past five years. Marika is the Coordinator of The National Cancer Platform which brings together all Maltese non-government organizations working in the field of cancer and she mans a 'one-stop shop' concept office at Malta's oncology hospital.
She is also the clinical aromatherapist in residence at the hospital working with other health care professionals to offer an integrative and holistic approach to treatment.
Marika is a VTCT Tutor, Assessor and Internal Quality Assurer. She runs AromaHub Malta together with Lorraine Spiteri.
She is the founder of The Azure Butterfly Project, a group of professional complementary therapists who are voluntarily offering their services where it is most needed and where otherwise it would be very difficult for people to have access to therapists.
---

The Netherlands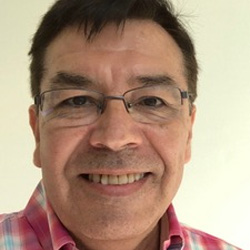 Jonathan Benavides
While working with autism at the University Psychiatric Hospital in Leiden in the Netherlands in 1988, Jonathan started to develop multisensorial interventions in order to break the armour and get into the patient's world. Since then he has always been interested in research the integration of different disciplines. In 2002, he got first in touch with aromatherapy when working with sensorial therapies for autistic children in the Netherlands and began studying advanced clinical aromatherapy in the UK.
Since then he has continued to extend his knowledge. Jonathan has been working within the palliative home care system in The Netherlands since 2009, incorporating his skills for providing comfort to the seriously ill and dying. Over the years he has developed, used, trained and lectured in diverse therapeutic interventions (conventional and non-conventional) such as
"Into the tunnel" for autistic children (1987)
"Bio-gymnastics, integrating the emotions in your body (1989)
"Ahava, the Reiki of Love", a new Reiki approach (2001)
"Anointing, a spiritual seance", an energetic chakra harmonisation (2008)
"Into the Light", psychological approach for the sick and dying (2011)
"Integrative Reiki, Reiki Usui together with essential oils, electromagnetic frequencies and roses energy" (2013)
"Reinforcing your T-cells", a holistic immunological approach" (2015)
"Let be free again", a trauma release aromatic approach (2017)
"Train to the Light" aroma and sound for HEARTS (UK) (2018)
"Remembering and Honouring you", aroma and texture for HEARTS (UK) (2018)
"Adjusting, a multisensory self-compassionate approach for cancer related distress" (2019)
"De-Compressing, for stress relief, resilience and to treat anxiety, fear and solitude" (2020)
For some years now, Jonathan conduct forest bathing workshops wherein he takes people to the forest to experience not only the trees themselves but in conjunction with the essential oils the same tree species produces. In this way he has taught many people to appreciate the trees as beings and in this way, he has help people to become more conscious of the fragility of nature and our responsibility within.
Besides working in the Netherlands, Jonathan also works regularly at the IKYA Klinikken in Oslo (Norway) and in Casa do Ser in Lisbon (Portugal).
He has participated in several seminars, conferences and congresses in aromatherapy, complementary therapies, psychology and music therapy.
Jonathan is working also at the moment on a book about spiritual aromatherapy for palliative care, dying and beyond.
---

Portugal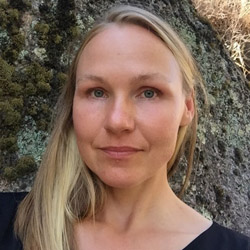 Marju Kivi
My name is Marju Kivi and I am specially honoured to become an Airmid Ambassador for Portugal!
I was born in Estonia and have lived in Portugal for 20 years. Together with Marco, in our family are three lovely children, teenagers by now. A watermill from 19th century appeared to us suddenly where is now installed Naturalness Essential Oil Distillery.
So ten years ago we moved from Lisbon area to a village called Louriçal do Campo. Situated in the heart of Portugal, aside of Gardunha mountain and Ocreza river. After we had moved, there was still no certain idea of how we may manage to put bread on the table… On one hot summer morning, Marco and I had gone for a mountain bike ride. There was this steep uphill and we had to walk, off from the bikes. In the air was this sweet, woody aroma. It was intense and invited us to discover: "come to me and dicover who I am!" At the time I did not understand this message this way, but still we are so attached to this plant and willing to work with her. So from that moment on the hills, we became essential oil distillers. The plant is Cistus ladanifer, Rock Rose in common language. There are now eight years of relationship with Cistus plant including all the challenges she may lay on us.
Because Portuguese flora is rich in aromatic and medicinal plants and the climate allows the development of volatile compounds, there are several wild grown plants we work with besides Cistus ladanifer.
Over eight years of activity as essential oil distillers, each year is different. Who works with Nature, knows that you may add two plus two but the outcome may not be four. This happens so for climate conditions and human action.
As an Airmid Ambassador for Portugal, I am honoured to learn with Airmid Institute. Why should I do so? Well, actually Marco used to be a lawyer and I studied to be a cycling coach but around us exists this knowlegde within Nature. Great functionality, mechanisms of survivance and so much beauty! Still, for humanity, there is long way to discover more truth about plants! As essential oil distillers, we are servants of Mother Nature´s knowledge. To be able to deliver a plant extract inside a bottle is an honour for us. Our question to the consumer is: "do you know, how many kilograms of plants are needed to produce a quantity of essential oil inside this bottle?" and "how come this product has this amazing action on one´s health?" or "who planted all wild grown plants?".
Happy to be on board with Airmid Institute and to protect natural source of aromatic and medicinal plants in Portugal! Are you with us?
---

Taiwan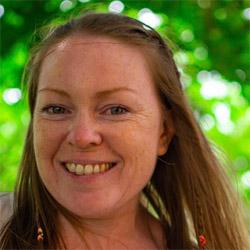 Rosie Walker-Chen
Originally from the U.K., Rosie has lived in Taiwan for the past 18 years and is extremely happy to call Taiwan her home. She has been involved in education for over twenty years. From an early age Rosie has had a deep love of plants and nature. Culminating in becoming an Aromatherapist and a member of the IFPA. Rosie would like to use her experience in educating and helping people to become aware of the plight aromatic plants face due to the increased popularity of phytomedicine.
---

The United Kingdom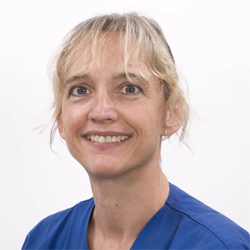 Dr Jacqui Stringer
PhD, RGN, MIFPA
Jacqui is Clinical & Research Lead for the Complementary Health & Wellbeing services at The Christie NHS Trust; an acute cancer hospital in Manchester, UK, where she has been working clinically with essential oils since 1997. Her clinical focus is the management of patients with complex physiological and / or psychological needs, at all stages of their treatment. The role includes maintaining a clinical case load where essential oil preparations are used in conjunction with standard licensed medications to facilitate maximum healing / symptom support. In addition to her clinical duties, Jacqui leads on the department's research programme as a central part of her role. Fundamental to her leadership is addressing the issue of sustainability when choosing essential oils, for use in both the clinical and research setting. Crucially, we look to use oils grown in a sustainable way, preferably using approaches, which are integral to and beneficial for a country's innate ecology.
---
Would you like to be a Airmid Ambassador?
To apply to become an Airmid Ambassador, please email us at info@airmidinstitute.org. Those wishing to join us are asked to complete an application form and to meet for an interview. Click here for more information on the program.