Kelly Ablard, PhD,EOT,RA
Founder and Executive Director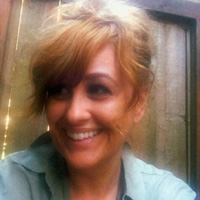 Dr. Ablard, has initiated and contributed to in-situ and ex-situ educational and research projects focused on the conservation of threatened and CITES-protected IUCN Red Listed fauna and flora species such as Pongo pygmaeus (Bornean orangutan), Loris tardigradus (red slender loris) Nycticebus javanicus (Javan slow loris), and Aniba rosaeodora (rosewood). Her passion for essential oils, sustainability and working with communities comes through in her work as a global speaker, author, researcher, community scientist, and educator. She has also enjoyed establishing a community aromatic medicinal plant garden for at-risk youth, multicultural, disabled and First Nations students, and developing a college program in urban sustainable agriculture. Along with Airmid's Board, Kelly is dedicated to advancing Airmid's mission. She also provides expertise on threatened essential oil-bearing plants in her role as a Board member of the United Plant Savers. Click here for more information.
---
Hannah Laut, BSc
Secretary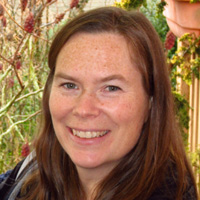 Hannah Laut (née Bottomley) is a certified horticulturist and holds a B.Sc. in Biology (Ecology and Evolution) and an extended minor in French. Her 10 years of experience in the private and municipal sectors of the horticulture industry, and as the founder and operator of a successful small gardening and landscaping business, have given Hannah a vast amount of experience in understanding the world of plants and showcasing their beauty. A highlight of her gardening career was rejuvenating Arthur Erickson's garden for the Arthur Erickson House and Garden Foundation, a nonprofit organization dedicated to preserving this iconic property.
She also spent several years studying ecology and insect-plant relationships and monitoring invasive species. Her interest in ecology stemmed from seeing the impact of invasive species in her horticulture work and understanding the threat invasive species pose to biodiversity worldwide. Consequently, she joined forces with the Invasive Plant Council of British Columbia and the Greater Vancouver Invasive Plant Council on the Hot Spots Program. The program was pivotal for invasive species management in Metro Vancouver, as it provided a baseline for various municipalities and districts to build their own invasive species management programs. Hannah continued her work in invasive species with the Canadian Food Inspection Agency, Canada's National Plant Protection Organization, whereby she closely monitored and helped inhibit the spread of some of the most potentially devastating pests to Canada's forests, biodiversity, and economy.
Hannah is also an award-winning presenter and made significant contributions to novel scientific research published in the prestigious journal Proceedings of the Royal Society B. She has also contributed to research on the evolution of plant-pollinator communities. Her love for research has extended beyond the field and the lab to writing research grants. She recently completed a grant and proposal writing course and is currently volunteering her time assisting the Invasive Species Council of Metro Vancouver (ISCMV) with grant writing.
Hannah has also travelled all over the world. She lived and worked in France for a year and a half, which provided the foundation for her becoming fluent in French. Her travels abroad also afforded her opportunities to learn about and to photograph a variety of flora from around the world.
Hannah served as a board member on the ISCMV for two years. She lives in North Vancouver, Canada, with her husband, two children, a cat, and a fish. During her spare time, you will find her in the forests of British Columbia or in a garden – what else would you expect from a self-described plant nerd!
You can email Hannah at hannah.airmidinstitute@gmail.com.
---
Adler Paredes
Director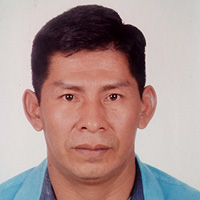 Adler Pacaya Paredes is a Shipibo-Konibo native who resides in central Peru. Adler has dedicated much of his life to forest regeneration, permaculture, sustainable management of Amazonian plant species, and protection of threatened native Peruvian plants. He has received numerous scholarships, and degrees in agriculture and permaculture. Professionally, he has joined forces with the Agricultural Technical College, the Inca Garcilaso de la Selva, the National Institute of Agricultural Research, the National Intercultural University of the Amazon, the NGO Rainforest Ecovercity Center, and the University of Gaia (Ecuador) on projects whereby his primary roles were focused on project management, sustainable development, agricultural engineering, and education.
When Adler isn't deep in the Amazon working to protect plant species, he is at home with his amazing family, including a beautiful newborn daughter named Michelle.
---
Lori Snyder
Director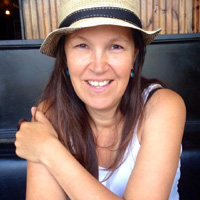 Lori Snyder is a Metis herbalist & educator of wild, native and medicinal plants. Born in Squamish, BC. Lori wandered the woods of the West Coast rainforest which began her life long love of plants. Her ancestry of 7 Indigenous nations originates from the east coast across 'Turtle Island'. In the 1990's Lori studied with the Pacific Institute of Aromatherapy to work in various spas and apothecaries to help educate this emerging modality. Recently, Lori is called to share the wisdom of plants at elementary and secondary schools and presents at Professional Development days within the Metro Vancouver School Districts. Lori is currently the "eco-artist in residence" at Moberly Arts & Cultural Centre. She care-takes a Medicine Wheel garden, offers various workshops on permaculture, medicine making, and garden consulting. In the past two years Lori has teamed up with Farm2School, a National organization to facilitate 'Indigenous Foodscapes' into Vancouver school yard gardens, co-creating living legacies for our future generations.
---
Dr. John Lyon, PhD
Director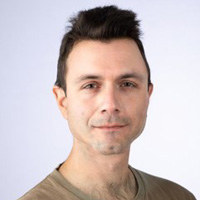 Dr. John Lyon is an Assistant Professor in Linguistics at California State University, Fresno, specializing in semantics, information structure, and syntax of Interior Salish languages, spoken in the Pacific Northwest and Western Canada. His MA thesis work consisted of dictionary work with the Coeur d'Alene tribe in Idaho, and was carried out at the University of Montana, under the direction of Dr. Anthony Mattina. He obtained a PhD from UBC in 2014, with his dissertation (supervised by Dr. Henry Davis) investigating the syntax and semantics of non-verbal, "copular" sentences in Nsyilxcn (a.k.a. Okanagan Salish).
He is currently conducting collaborative fieldwork on St'át'imcets (a.k.a. Lillooet) and Okanagan, focusing on prosody and information structure, and their variation within the Salish language family. This work involves elicitation with fluent elders, as well as the analysis of new and existing recordings of narratives and conversations in order to determine (a) the range of intonational contours in Interior Salish and their associations with sentence types within a narrative or discourse; (b) the acoustic correlates of focus and givenness in Interior Salish; (c) the effect of information structure on syntax; and (d) whether (a-c) vary with respect to language or speech genre. This work is significant for language revitalization efforts because research has shown that acquiring the intonation patterns of a fluent speaker is especially challenging for learners, is one of the last steps to complete fluency, and is one of the most important factors in determining how well speakers and learners of a language understand each other.
From 2014-2016, he was employed as Postdoctoral fellow through a SSHRC Partnership Grant titled First Nations Languages in the Twenty-First Century: Looking Back, Looking Forward, awarded to Dr. Marianne Ignace at Simon Fraser University. He continues to be involved in documentation and resource development initiatives with the Upper St'át'imc Language, Culture and Education Society (USLCES) in Lillooet, BC. His work includes contributions to a community-based English-St'át'imcets dictionary, three comprehensive analyzed text collections (see in particular Alexander et al (2016)), and two 300-level St'át'imcets courses. He has also recently published a volume of Okanagan language narratives with the University of Nebraska Press, entitled "Okanagan Grouse Woman: Upper Nicola Okanagan Narratives" as part of the Recovering Languages & Literacies of the Americas (RLLA) series, and continues his collaborative, community-based documentation work in the Okanagan. In 2017-2018 he held a SSHRC Postdoctoral Fellowship at the University of Victoria.
John's long-term research interests include documentation of personal narrative, building indigenous language literatures, the semantics and syntax of North American indigenous languages, innovating ways to re-purpose linguistic research into language curricula, and understanding and implementing successful socio-economic language revitalization strategies.
He has worked with local BC artists in integrating indigenous language into exhibitions, and participated in related artist talks which help disseminate awareness of issues surrounding indigenous language endangerment. He has recently taught courses for UVIC's Certificate in Aboriginal Language Revitalization (CALR) program in Nunavut, for SFU's Graduate Certificate Program in the Linguistics of a First Nations Language, as well as several courses for SFU Linguistics on beginning and intermediate semantics and syntax.
---
Gary Ablard, JD
Director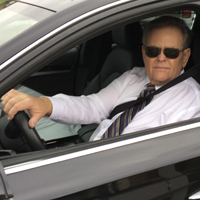 Gary Ablard has practiced law for the past 40 years. For the past 30 years representing clients in a variety of matters including higher profile and Capital cases. Previously, he represented plaintiffs in Bad Faith litigation against insurance companies. Mustered out of the Army in 1970, he resumed his education and graduated from Pomona College in Claremont, California in 1974 with a BA degree in Literature. Taking a couple years off, he began law school in 1976 passed the State Bar and began practicing in 1979.
As a child, he lived on the family farm with his grandparents for the summers, and on occasion, extended periods. The small farm had the usual assortment of animals and accoutrements: milk cows, pigs, chickens, goats, and mules. No indoor plumbing, an outhouse, a creek in which to bathe, a cistern next to the cinder block steps leading to the screened-in back porch where root vegetables were stored and game for supper were cleaned, and a crank-starter tractor with a loud billowing smokestack. His grandparents tended the farm and the animals with respect; and upon reflection and with reverence, instilled in Gary a sense of oneness with the land.
Away from the farm, he grew up in a cemented urban environment. His memories of the lessons learned from his grandparents, and his experiences trailing along caused him to re-evaluate. As time went on, he developed a passion for establishing sustainable practices for preservation of the planet and its inhabitants.
Gary enjoys reading, writing, watching old movies, photography, and traveling – especially by train. In the future, he hopes to revisit several haunts in Europe.
---
Director Support
Anita James
Research Associate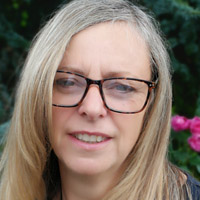 Anita James is an aromatherapist, educator and fledgling florist. Born in Derbyshire UK she has gardened from an early age. Firstly, with her grandfather learning the wisdom of the plants from him and her Mother. In 2000 after a life change, she trained as an Aromatherapist with the Shirley Price International College of Aromatherapy. After completing her training, she has worked as a therapist and led school projects using aromatherapy and massage with children of all ages. Anita completed her Cert Ed in 2007 and began teaching aromatherapy and holistic CPD courses. In 2013 she launched Essentially Holistic Online Training which provides IFPA (International Federation of Professional Aromatherapists) accredited training. She has spoken at conferences in the UK and abroad about her work with Aromatherapy in Schools and is a past board member of the IFPA and Vice President of the AIA (Alliance of International Aromatherapists). She has a large allotment close to her home where she grows vegetables, fruit plus a large variety of herbal and aromatic plants. She has recently added a cut flower area where she plans to grow flowers and foliage for her floristry projects.