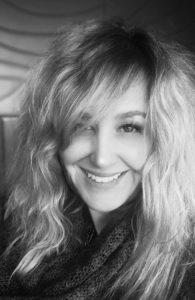 Kelly M. Ablard is a certified and registered complementary and alternative medicine (CAM) practitioner and holds a Doctorate in Biology, a Master's in Conservation, and a Bachelor of Science (Hons) in Biology. Kelly's expertise is rooted in her scientific investigation of (and profound love for) plants and animals. This passion gives her a deep knowledge of current best practices to support holistic healing.
As a Community Scientist for Science World, and founder of the Airmid Institute and Vancouver Community College Urban Apothecary Learning Garden, she is enthusiastic about teaching the public about traditional medicine and the deeply-rooted relationship between essential oil-bearing plants and the animal kingdom. She is also dedicated to the global education, research, and sustainable management of medicinal and aromatic plants. Currently she is conducting research in four key areas – conservation statuses and sustainability of medicinal and aromatic plants, Peruvian rosewood (Aniba rosaeodora) cultivation and distillation, Minthostachys spp. ecology and accurate species identification, and bridging gaps in scientific data to support aromatic plant medicine used in traditional medicine.
Kelly has completed and published research on olfactory systems, chemical communication across species, and clinical uses of plant medicine. Her work has taken her all over the world where she has studied the different uses of traditional medicine, worked to help protect threatened species, and discovered firsthand the vital role that chemical communication plays in the natural world. For example, she explored traditional uses of over 60 Peruvian aromatic medicinal plants, her novel discovery of how small wasps rely on individual chemical signatures to mediate their mating ritual is featured in Canadian Geographic magazine, and how she identified potential toxins in the critically endangered slow loris (Nycticebus javanicus) is highlighted by the British Broadcasting Company (BBC). She has also reported on the ingenuity of tool use by endangered orangutans (Pongo pygmaeus), and has investigated the link between sociality and olfactory communication in mammals.
Kelly is the Founder and Executive Director of Airmid Institute, is Co-Principal and is Co-owner of Essence of Thyme College of Holistic Studies. She has been honoured with the BCAOA 2016 Achievement of Excellence Award and voted one of the top 5 aromatherapists in Vancouver, B.C. She works in both Southern California and Vancouver, B.C.
More details about Kelly can be found here.