Mission
Protecting medicinal and aromatic plants – and their use in traditional medicine – for future generations.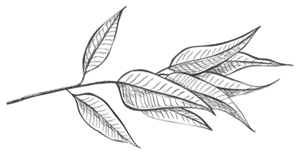 Vision
A biodiverse-rich planet with an abundance of medicinal and aromatic plants (MAPs) for future generations.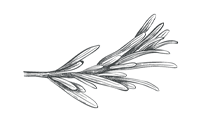 Purpose
Airmid Institute is a 501(c)(3) non-profit charitable organization dedicated to the global education, research, and sustainable management of medicinal and aromatic plants (MAPs). We aim to develop, implement, and support projects and education for all ages focused on traditional ecological knowledge of aromatic plant medicine among healers worldwide, impacts of climate change, ethical sourcing, and forest regeneration. We also help to protect and promote uses of traditional medicine in Indigenous communities.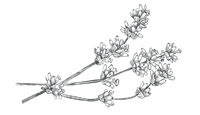 Protecting medicinal and aromatic plants – and their use in traditional medicine – for future generations
"Conservation is a cause that has no end. There is no point at which we will say our work is finished."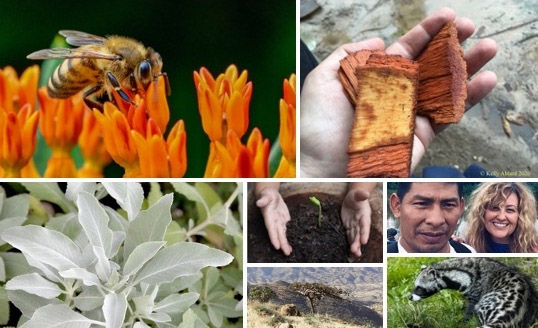 According to Global Market Insights Inc, the size of the global essential oils market exceeded 7.5 billion USD in 2018 and is estimated to exceed 15 billion USD by 2026 (Ahuja and Singh, 2019). While this accelerating growth is driven by increasing demand from industries as diverse as food and beverages, cosmetics, toiletries, fragrance and pharmaceuticals, the demand for extracts derived from ecologically vulnerable and threatened medicinal and aromatic plant species comes especially from the essential oil and aromatherapy retail market. The consumer appetite for carrier and essential oils such as that of Aniba rosaeodora (rosewood) places an extra burden on an already endangered species, as the heightened demand from multi-level marketing companies in particular not only threaten the continuity of the species but contribute to deforestation.
The issue of the sustainability of carrier and essential oil-bearing plants is therefore inseparable from the threat to the global natural environment, and from factors that contribute to the ravages of climate change. The lack of sustainable supply of certain oils drives up their market value and thus their relative profit for retailers. Yet rarely does this inflated value benefit the sometimes impoverished communities that harvest and collect the plant material for distillation. And all too often the plant material and extracts of threatened and near-threatened plant species are exported illegally, without the proper certification required under CITES (Convention on International Trade in Endangered Species of Wild Fauna and Flora). Their essential oils also become more susceptible to adulteration.
The Airmid Institute has been established as a nonprofit organization to holistically address key issues involved in the harvest of, and trade in threatened and near-threatened carrier and essential oil-bearing plant species. This includes highlighting the perilous conservation status of these species; ensuring that those oils that require CITES certification are sold legally; working with government agencies and other organizations to counter unethical harvesting and illicit exportation and commerce; and supporting local communities that rely on these species for their livelihood by encouraging sustainable agriculture and reforestation. The work of the Airmid Institute therefore embraces research and analysis, investigation and reporting, collaboration and cooperation, and education and training.
Airmid also works with regulating trade associations (e.g. aromatherapy, herbalism, and fragrance) and recognized educational institutions on the development and implementation of guidelines and curricula centered around the conservation and sustainability of oil-bearing medicinal plants. University and independent laboratories worldwide help facilitate taxonomic classification and identification of species through genetic analyses, chemical analyses, and herbarium collections, while government agencies support the authentication of legally binding permits such as CITES.
At a local level, the Airmid Institute does community outreach in locations throughout the world where people are engaged in the harvesting and cultivation of threatened and near-threatened plant species. Its work in these communities is focused on sustainable harvesting, soil management, crop diversification, replanting and regeneration, and collaborating with regional experts and scientists to promote practices which are both more environmentally sustainable and economically stabilizing. Its educational projects in these countries further embrace the quality control of plant resources and distillation as well as the therapeutic uses of essential oils in support of community health. Education and training in contemporary scientific aromatherapy practice are approached with sensitivity toward and respect for local and Indigenous traditions of plant wisdom and healing. Indeed, the Airmid Institute's guiding principle in this regard is one of cross-fertilisation of knowledge, seeking as it does to research, document and protect the practice of traditional plant medicine in Indigenous communities such as the Peruvian Shipibo and Quechua. This in turn intersects with Airmid's broader goal of facilitating the sharing of knowledge of medicinal and aromatic plants between healers and educators worldwide.
As part of its mission to protect and to promote the conservation and sustainable management of threatened medicinal and aromatic plant species, the Airmid Institute also maintains a continually updated list of threatened, near-threatened and CITES-protected plant and animal species used in aromatherapy and perfumery, making available a revised edition of this list every six months (subscribe to our newsletter to receive updates or email [email protected]). For example, of the +35 plants on Airmid's list, Nardostachys jatamansi (spikenard), growing in India, Nepal, Bhutan, Myanmar and China, is classified as Critically Endangered by the definitive Red List of Threatened Species maintained by the IUCN (International Union for Conservation of Nature) (Ved et al., 2015). Highlighting plant species in this way is allied with our aim of promoting the marketplace sourcing and use of plant oils and extracts of ethical sustainable origin. As part of this role, Airmid offers to oil retailers, business membership, thereby publicizing companies that adhere to its standards by only selling oils of an ethically and legally sourced, sustainable origin. Additional Airmid memberships include those for students, individuals, educational and nonprofit organizations, and Indigenous communities.
Further to memberships, personal grants, and private funding the Airmid Institute and its projects also run on the generosity of people worldwide who have donated essential oils for training and use within Indigenous communities, school supplies, translation services, educational materials, children's shoes, and laboratory tests.
We hope you will join us as an Airmid member to help preserve essential and carrier oil-bearing plants and the Indigenous cultures that rely on them. Together we can work to protect the plants as part of our healing journey.
References
Ahuja K, Singh S. Essential Oils Market Size By Application (Orange oil, Lemon oil, Eucalyptus oil, Clove oil, Peppermint oil, Jasmine oil, Rosemary oil, Cornmint oil, Citronella oil, Geranium, Spearmint oil, Lavender oil, Tea tree oil and others), By Application (Food & beverage, Aromatherapy, Cosmetics & Toiletries, Pharmaceuticals, Cleaning & Home care, Animal Feed, Fragrances and Others) Industry Analysis Report, Regional Outlook, Growth Potential, Competitive Market Share & Forecast, 2019 – 2026. Global Market Insights. 2019;1-280. Report ID: GMI2391. Oct. 2019.
Ved D, Saha D, Ravikumar K, Haridasan K. Nardostachys jatamansi. The IUCN Red List of Threatened Species. 2015. e.T50126627A50131395. http://dx.doi.org/10.2305/IUCN.UK.2015-2.RLTS.T50126627A50131395.en.Accessed Dec 13, 2019.