Rosewood (Aniba rosaeodora Ducke) is a tree in the family Lauraceae endemic to Brazil, Colombia, Ecuador, French Guiana, Suriname, Venezuela, and Peru.
Trade in authentic essential oil of A. rosaeodora has declined significantly due to the unsustainable harvesting of its sapwood and heartwood – which has been in very high demand since the 1920s (Souza et al., 2011). Trees of all sizes and ages are harvested indiscriminately, and entire trees and their roots are being destroyed. Illegal and unsustainable harvesting, as well as illegal logging and distillation, take place in remote locations in the interests of reducing costs and the risk of being detected. Unfortunately, when these areas are discovered, they show little potential of regeneration.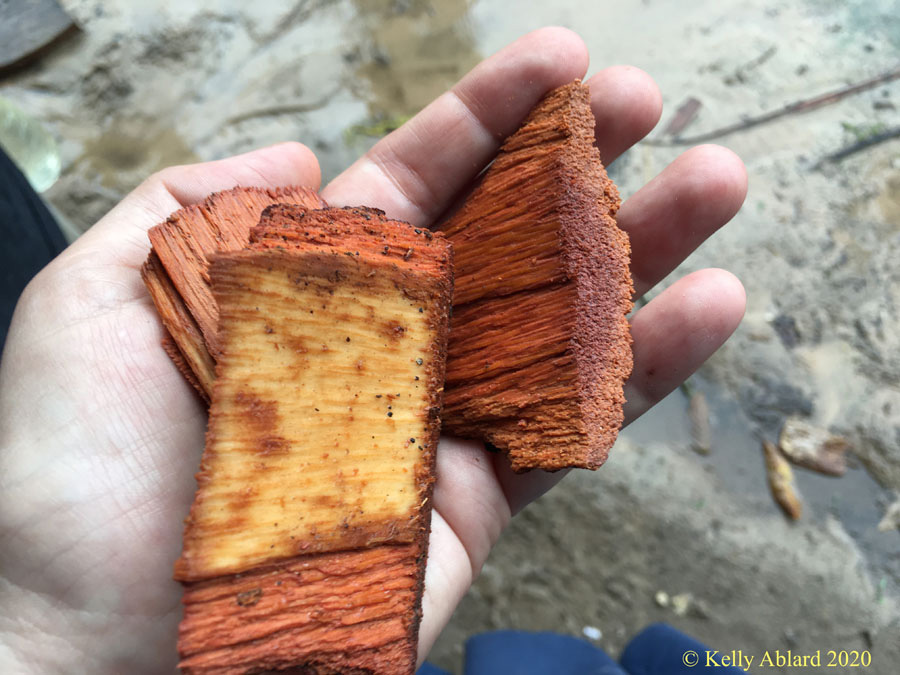 The lack of controlled regeneration is exacerbated by the low frequency of natural regeneration of A. rosaeodora. Further, A. rosaeodora is commonly impacted by habitat loss, and its illegal acquisition at any cost (P. Maderas, personal communication, March 27, 2017). Therefore, A. rosaeodora (Ducke) is IUCN Red Listed as an Endangered species (Barstow, 2021), and is trade-protected by the Convention on International Trade in Endangered Species (CITES).
Although levels of exploitation have declined with the increased use of synthetic linalool, it has not been sufficient to prevent the unsustainable and illegal harvesting of the rosewood tree, nor the illegal production and trade of its essential oil. It was announced on September 18th, 2017 that the essential oil multilevel marketing company Young Living "pleaded guilty in federal court to federal misdemeanor charges regarding its illegal trafficking of rosewood oil…. listed as endangered on the IUCN Red List in violation of the Lacey Act and the Endangered Species Act." Whether the confiscated A. rosaeodora oil sourced from Peru was adulterated was not determined.
Aniba rosaeodora essential oil is frequently adulterated for many reasons including –  it is among the most commercially valuable essential oils on the world market, the tree is Endangered and CITES-protected, expensive chemical analysis is required to differentiate between A. rosaeodora wood, leaf, and branch oils, as well as oil extracted from different species, and the supply is not available to keep up with demand due to years of unsustainable management and little to no regeneration.
All these reasons limit and complicate the market for distillers, retailers, and consumers alike. Consequently, suppliers and retailers attempting to obtain legally exported, authentic A. rosaeodora oil may often unknowingly purchase an adulterated oil. And if it is pure A. rosaeodora essential oil, it may not be the wood oil, and/or it may be illegally exported. Just how much illegally traded, misidentified rosewood oil is currently traded remains unclear.
There is an urgent need to bring awareness to the essential oil and perfume industries regarding the conservation and trade status of A. rosaeodora, reinforced by the need for further research into the oil. A better understanding of the product that ends up in the hands of consumers can help the conservation efforts to protect this Endangered species for future generations. It can also assist those who use the essential oil therapeutically, ensuring a more effective aromatic intervention.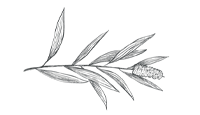 Research Objective
The overall aim of this novel research project is to gain a better understanding of how prevalent authentic legally and ethically sourced A. rosaeodora wood, leaf and branch essential oils occur in the fields of aromatherapy, cosmetics and perfumery. Data will be collected through a sample intake form, and through chemical analyses and olfactive analysis of rosewood essential oil samples.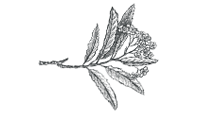 Methods
A minimum of n=50 rosewood oil samples will be collected from locations around the world — accepted on the basis of submitting a completed intake form. The intake form is available in English, French, Brazilian Portuguese and Spanish.
Participants whose product samples are analyzed will receive a copy of the GC-MS chemical profile, and unused or leftover samples will be donated to an herbarium. Those essential oils that are found to be authentic, unadulterated sources of A. rosaeodora oil may be subject to further testing using isotopes to test for geographic correlation.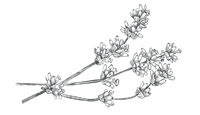 How to Participate
If you'd like to learn more about this study and to submit a sample(s), please reach out to one of the Airmid Institute project members below: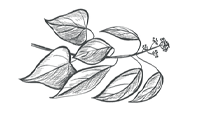 Our Collaborators at Laboratoire Phytochemia

Airmid Institute is honored and excited to be working on this research in collaboration with Laboratoire Phytochemia, whose team will be conducting the chemical analyses and olfactive analysis. Please find below more information about their amazing team working on this project!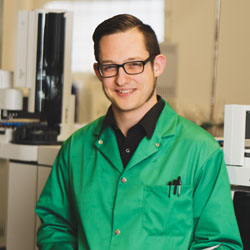 Alexis St Gelais
B.Sc in Natural Products Chemistry, M.Sc in Renewable Resources, PhD in Biology
Scientific Director and co-founder of PhytoChemia, Alexis heads the company's research and development department and laboratory. By training, he is a chemist. He has published several research papers and book chapters on the chemistry of essential oils and the synthesis of new molecules.
His expertise, integrity, and honesty enable him to establish the elevated company standards that ensure the accuracy of results
In this project:
Manager, Scientific expert, Data processing
Contact info:
[email protected]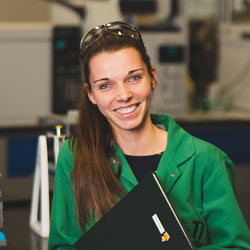 Cindy Caron
B.Sc in Natural Products Chemistry
Cindy is a lab technician responsible for receiving and processing samples at PhytoChemia. By training, she is a chemist.
Dynamic and highly motivated, she ensures that all received samples are handled diligently and in accordance with standards.
In this project:
Sample delivery and injection, Olfactive analysis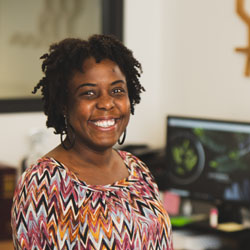 Corine Lormel
B.Sc in Natural Products Chemistry, PhD in Engineering Sciences
Corine is a scientific communication specialist at PhytoChemia. By training she is a chemist and a physicist.
Synthetic and emphatic, she follows up clients' requests, and social media communication.
In this project:
Compilation of data and follow-up of requests
Contact info:
[email protected]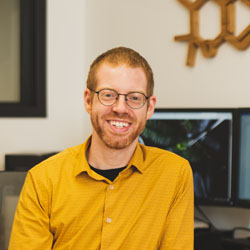 Sylvain Mercier
B.Sc in Natural Products Chemistry, M.Sc in Renewable Resources
Sylvain is a senior analytical chemist at PhytoChemia. By training, he is a chemist. He has published several articles on the chemistry of essential oils.
Versatile and rigorous, he interprets the data and implements analytical methods to achieve high quality results.
In this project:
Data processing
References
Barstow, M. 2021. Aniba roseodora. The IUCN Red List of Threatened Species 2021: e.T33958A88301381. https://dx.doi.org/10.2305/IUCN.UK.2021-3.RLTS.T33958A88301381.en.
Souza, R.C.Z., Eiras, M.M., Cabral, E.C., Barata, L.E.S., Eberlin, M.N., and Catharino, R.R. 2011. The famous Amazonian rosewood essential oil: Characterization and adulterations monitoring by electrospray ionization mass spectrometry fingerprinting. Analytical Letters 44 pp. 2417-2422.